Miami Limo Service is your leader in South Florida transportation. Now that you found us, you will not need to look any further for a transportation service in Miami. We have an exceptional fleet of vehicles for you to choose from as our sales staff will be proud to assist to pick the right vehicle for your event. Call Now: (305)-387-3035.
Miami Limo Service offers top quality limousines and party buses we also offer limo service in Dade county including Coconut Grove, Aventura, South Beach, and all of Dade County.We appreciate the opportunity to earn your business, trust, and win your business for years to come.
Imagine how amazing your next upcoming party, wedding, or even your anniversary would be when you do not have to worry about driving. You could enjoy more time kicking back relaxing and spending quality time with your friends and family while Miami Limo Service drives.
Our chauffeurs can have you picked up right from your front door!
Miami Limo Service
Plan on showing your special someone a nice evening out? Well why not show them how much you care by renting a Hummer Limo, Range Rover or an Escalade limousine. No matter how large your group may be, we have the perfect vehicle that will fit everyone.
Heading for a family reunion and need to get everyone in the same vehicle? Our Excursion Limo Miami holds up to 22 passengers and would be perfect for your next event. Limos in Miami are ideal for your night on the town.
Do not worry about how much you or your friends drink out at clubs like Set, LIV, Club Space, and Club Mansion. Our trained drivers can be your designated driver for when you plan on getting wild and crazy.
Take a Miami Limo Service tour and find things about the city you thought never existed. With MIA enriched with such history and culture you could only wonder how amazing the food is. Celebrate in style with a party bus from our affiliate Partybus.com.
Why not take your kids on an educational adventure and let me learn in style. Take them to Vizcaya Museum and Gardens or the ever so popular Miami Children's Museum.
Party Bus Miami FL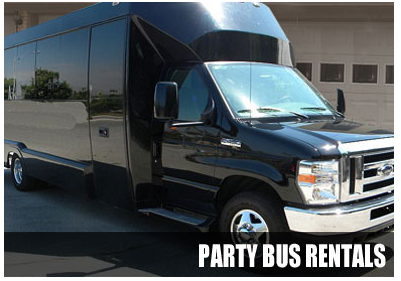 Looking to hold up to 50 passengers? Then our Miami Party Bus Rentals are exactly what you are looking for. With most of them having mind blowing amenities like fiber optic lighting, custom leather seating, restrooms, multiple wet bars, hardwood floor and much more.
Why waste time traveling to each nightclub? When you can take the celebrations point to point with you in a Party Bus Miami, FL. With our huge fleet of vehicles it can be hard to decide which one is perfect for you and your upcoming event.
Feel free to call or click today to speak with our professional customer service representatives. They are available 24 hours a day and can help you with any questions or party bus prices Miami.
Even sports fans have something to be excited about when renting a Limousine Miami FL. Think about how fun tailgating would be with a Hummer Limousine or Escalade. Your luxury vehicle will make everyone jealous and let you be the life of the celebrations.
No more worrying about how far away you parked or if someone is going to key your car. Our professional driver will be waiting for you after watching the Miami Heat win a NBA Championship. Coming in for a family reunion and need a shuttle bus from Miami International Airport? We offer airport transfer services to MIA anytime you may need. Call or click the live chat button to speak with our trained customer service representatives.
Party Bus Rentals Miami
Miami Party Bus allows you to tour the city of Miami with the comfort of a millionaire and the style of a celebrity.
Miami party bus has the most complete fleet and the best drivers in the trade. From business trips and dates to bachelor parties and nights out drinking, Miami, Florida party businesses will help you have a memorable time.
Miami party bus rentals are highly affordable to many and by making your reservations, you'll be making a lot of savings. You can leave the driving to our experience drivers and enjoy your time in Miami, Florida in style.
Use Miami Party Bus to find the best prices. You can get this done within minutes by submitting the date, time and the number of passengers and you will get a quote. Miami Party Bus allows you to choose from an array of party bus rentals making sure that you are able to plan a memorable day while sticking to your budget.
Party Bus Rental Miami consists of a fleet complete with Lincolns, Escalades, Hummers and stretch party businesses and charter buses. All the party buses look absolutely stunning to ensure that you have a great time and furnished to the highest industry standards to make sure that you're comfortable while traveling.
---
Common Questions:
Do you have prom limos?

Yes! Prom limo service is our specialty. Pick the limousine you like and we will take you to prom and home afterwards. There are hundreds of limousines being rented for prom in the Miami, FL Area, so be sure to make your reservations in advance before prices go up due to supply and demand.

Do offer wedding limousine services?

Yes! Wedding limousine service in Miami is one of our signature services. We have the perfect fleet of limousines for your wedding, reception, and after party! Your special day means just as much to us as it does to you, so we make sure to provide the highest quality limousines for weddings. We also offer party buses, and charter bus rentals for large bachelor and bachelorette celebrations.

How much money does it cost to rent a party bus in Miami?

Prices vary depending on the number of passengers, hours needed, and stops made (or overtime). Your group can use any of our incredible party buses for those special occasions that you want to remember forever. The most affordable way to obtain a party bus rental is to split up the cost with all passengers.

Do you have charter bus rentals for school field trips?

We do! We have access to dozens of charter buses that can be used for bith inner city and out of state travel! Our chauffeurs love chartering groups to museums, zoos, state parks, and many more cool destinations to see. Just let us know how many passengers there are, and we can get you a quote for multiple charter buses if necessary.
---
If you're going to be in the Orlando or Tampa area, check out our affiliate companies Best Limo Service Tampa, BusRental.net, and Orlandolimorental.com.
We also work with an amazing bus rental company in Cincinnati you can call for services.
Miami Party Bus is the premier transportation company providing Miami party bus rentals and charter buses. We offer a variety of vehicles to accommodate your needs including mini vans, 15 passenger buses and luxury coaches. We also offer VIP service to help make your trip as special as possible!
Premier Party Bus Rental Company in Miami
Miami is a great place to visit, especially if you want to see all the sights, do all the things and eat all the food. Miami has many different attractions to see and many different things to do. Miami also has some great places to stay and shop at! If you are planning a trip to Miami with friends (or family), then we suggest renting one of our party buses for your transportation needs. We have premium vehicles that can accommodate up to 50 people comfortably while still offering plenty of space inside so everyone can enjoy themselves on their ride through this beautiful city!
Some Popular Party Bus Types To Choose from include
There are many types of party buses to choose from when planning your next event. Some of the most popular include: Party Bus – This type of party bus can hold up to 49 people, making it perfect for large groups. It comes with a bar and dance floor, as well as a bathroom on board. You'll be able to get in touch with our friendly staff before your trip begins so they can make sure you have everything you need! Limo Bus – A limo bus is similar to a regular limousine in that it transports passengers around town while playing loud music and offering drinks and snacks. However, unlike standard limos which only have one row of seating, these buses have multiple rows so more people can enjoy the ride together at once. They're also equipped with larger screens than normal cars so everyone can see videos or movies being played within them!
Miami Bus Company
Miami Bus Company is the premier party bus rental company in Miami. We offer a variety of party buses and packages, as well as rentals for your next private tour or event. Our vehicles are clean and comfortable, designed to accommodate up to 40 passengers. Our rates are competitive, so you can choose the option that best suits your needs without breaking the bank! Check out our website today or call us if you have any questions about our services or want to talk about reserving your next trip!
Why Motorcoach & Minibus Service?
Motorcoaches are larger than minibuses and can seat up to 50 people. They are ideal for large groups or traveling with a lot of luggage. Our fleet includes a variety of motorcoaches that range from 53-60 seats and can be rented by the hour, day, weekend, or even longer term. Our Minibuses are great for smaller groups on shorter trips. These vehicles seat up to 10 people and come equipped with everything you need for an enjoyable ride including: DVD player/TVs, WiFi hotspot (not available on all vehicles), stereo system with CD player/iPod hookup, overhead storage compartments and more!
Limo Service Near Me
You're looking for a limo service near me. You need transportation from Miami to Fort Lauderdale. You have searched the internet and found Miami Bus Company. We are here to help you make your hotel reservations and book your charter bus rental in Fort Lauderdale, Florida. You can calculate rates with us by clicking on our Charter Bus Rental Calculator or simply call us. We will be happy to assist you!
Luxury Limousine Rental Prices
The prices of our limousines vary depending on the type of vehicle you choose. Our basic hourly rate is $150 per hour and includes mileage, fuel, and driver gratuity. If you want your vehicle to be clean at the end of your event/trip, there will be an additional charge for cleaning services as well. If any damage occurs in the process or if there are extra passengers in your party bus rental, we will charge an extra fee for these things too!
Calculate Rates
You have the option to choose from a variety of services that can be added on to your rental. The number of passengers you wish to transport will determine the size of your vehicle. Most limo buses hold anywhere from 20 to 52 people with an average capacity of 30 passengers. Be sure to consider how many people you want on board before making your reservation so there are no surprises when it comes time for embarking or disembarking! The amount of miles required will vary depending on where you're going (and how fast). If you're planning a multi-city tour then this factor becomes especially important since each city will require its own set amount of gas in order for your journey as well as any other trips back home at nightfall or sunrise respectively if need be (such as after parties). Each stop along the way also increases fuel consumption exponentially due its distance away from where it was originally parked—so if there are many stops then make sure they are worth it!
Charter Bus Rental Miami
Charter buses are an excellent choice for group transportation and events. Charter buses are also known as party buses, because they're great for parties and special occasions. What makes chartering a bus an ideal option? What Are the Benefits of Chartering a Bus? The benefits of chartering a bus are many: It's inexpensive. You can save money by not having to rent multiple cars or pay for parking, gas and tolls. If you have more than 10 people in your group, it will be much cheaper to book a bus than rent multiple cars and pay for parking separately. It's easy to get around town. When you go on vacation with family or friends, there may be times when everyone wants to see different sights at different times during the day. This means that someone needs to organize everything ahead of time so that everyone knows how long each stop is going to take so they won't miss any part of the trip!
Charter a Bus
Your first step is to book your charter bus. You will want to look for companies that specialize in this type of transportation, as it will be more reliable and enjoyable than booking with a general charter bus service. Once you have found the right company for your needs, it's time to complete the booking process. There are several different options available when booking a charter bus: online or over the phone, calling in advance or booking at the last minute (up to 24 hours before departure). The best option for you will depend on how much notice you need and how much flexibility you want with your schedule. For example, if there are multiple people traveling together who want to go on their own separate route from Miami Beach back home but share an interest in renting out one large vehicle together instead of individual taxis/Uber rides etc., then it makes sense for them all to call up their favorite limousine driver together at once so that they can enjoy discounted rates while still having enough time before leaving town on Thursday night after all those drinks at brunch earlier this morning.
Miami, Florida Minibus and Charter Bus Rentals
We have a large selection of luxury charter buses that are perfect for corporate events, weddings, bachelor or bachelorette parties and much more. Our Miami Party Bus is perfect for any occasion! Our transportation rental service offers the best in transportation options to meet your needs. We are dedicated to providing our customers with the highest quality services at an affordable price while exceeding their expectations every time they work with us. We understand how important it is to keep your guests safe while traveling in style on their special day or night out on the town.
Charter a Bus to the Everglades
The Everglades is a wetland ecosystem in South Florida. It is home to many different species of plants, animals and birds. It is one of the most biodiverse areas in North America. The area is also popular with tourists who come to visit the park for day trips or longer vacations. The best way to explore this natural wonder is by boat on one of the many tours offered by companies like Florida Airboat Adventures or Crocodile Creek Airboat Rides & Tours.
Miami Cruise Transfers
We've put together the perfect party bus itinerary to make sure that your Miami cruise transfers are smooth and stress-free. Our chauffeured limousines are the best way to get around town, so don't miss out on your chance to explore some of our most popular destinations with one of our experienced drivers at the wheel. We're also proud to offer charter buses for rent as well! Whether you need transportation for a business trip or an excursion, we have the vehicle for you. We can accommodate parties in excess of 16 passengers and offer a variety of amenities such as Wi-Fi, satellite radio, air conditioning, leather seating and more.
Comfortable, Custom Trips
Miami Party Bus is the premier choice for luxury transportation in Miami. Our goal is to give you a comfortable experience and get you to your destination as quickly, safely, and on time as possible. We have a variety of vehicles and options available including: limos, party buses, coaches, SUVs and vans. You can also customize your trip with our VIP services such as stretch limo or party bus packages that include bottle service or karaoke machines!
Rent a Charter Bus to Explore Top Spots in Miami, Florida
Miami is a great city for tourists, business people and locals alike. As the home of South Beach, Miami is a hub for nightlife and entertainment. The party scene here is vibrant and fun. You can get to know the most interesting places with your reliable charter bus rental company! The best way to take in all that this city has to offer is with a group tour or charter bus rental service. In addition to enjoying the beautiful beaches, you can visit popular attractions such as Coral Castle or Jungle Island Zoo & Gardens while you're here. If you're getting married soon, consider choosing Miami as your destination wedding location!
Miami Sports Teams
Miami Dolphins – The Miami Dolphins are a professional American football team based in Miami, Florida. The Dolphins compete in the National Football League (NFL) as a member club of the league's American Football Conference (AFC) East division. The Dolphins play their home games at Hard Rock Stadium in downtown Miami Gardens!